Trucking accidents and downtime for maintenance are common, but outside of the industry, few people stop to think about what happens when a truck needs service. Assuming everyone is safe and uninjured, what happens next? How long will the truck be down for the count, and how do truck service professionals streamline the journey from "Oh, s#*%!" to "On the road again" for drivers?
We talked with Jeff Jarrett, the Director of Service Operations at Momentum Truck Group, to learn more about what happens when a truck driver has an accident or needs maintenance — and how dealerships like Momentum spring into action to help get drivers back on the road quickly and safely.
Hey, Jeff! Let's start by talking about the types of accidents and issues that can bring drivers into the service shop. What are the most common reasons for needing repairs you see around Momentum's service bay?
In almost every case, issues requiring service begin with a check engine light. That's the driver's indication that something is not functioning properly. Drivers experience and incur all sorts of issues while on the road day in and day out. Some are more common than others, depending on the season.
For example, some common issues we see in the winter are incorrect or untreated fuel, gelled fuel systems, water in the fuel, fuel contamination, and weak or dead batteries. In the summer, trucks can experience overheating, A/C issues, and coolant leaks. And then there's the general, run-of-the-mill stuff like brake system issues, engine and transmission issues, etc., which can really happen any time.
Of course, accidents do happen, such as a collision with another vehicle or an animal, like a deer; jackknifing of the truck due to road conditions; truck stop parking lot collisions, storm damage, etc. These incidents usually require a tow truck to be called to the scene, in addition to any emergency services that may be necessary to deal with injuries. The truck is then towed to a collision dealership like Momentum to start the longer repair process.
What are the next steps for a truck driver experiencing a serviceable issue or accident? Who do they call first? How do they get to you?
When a check engine light or indicator comes on, it is important to know why. It may be minor; it may be a show stopper. Either way, drivers do not want to guess. A driver can call us directly, or sometimes they'll contact their company's road service department who then gets in contact with us. They'll need to determine if the truck can be driven to us, or if they'll need a tow to our location, and we can assist if it's the latter.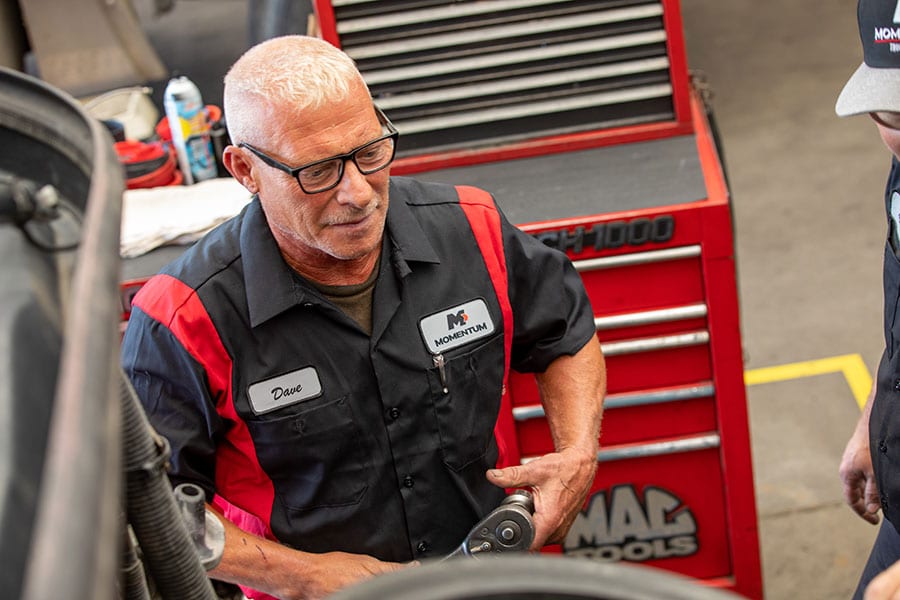 Once they've arrived, Momentum Truck Group's Express Codes allow the service advisor to scan the system and determine if the warning light is caused by an easily-addressed issue or a larger issue that may lead to more downtime. This empowers the driver and company to decide if they need to stay and have further investigation work done, schedule a quick repair, or if they can safely continue on their journey and can handle the issue at a later time.
After that decision has been made, if the customer needs further diagnostics, our DTNA Express Assessment can provide a more detailed answer, determine parts availability, and provide an estimate of both time and cost — or, at the very least, a current status update within two hours. Quick, accurate diagnosis is crucial to minimal downtime and a quick repair. If the repair is more extensive, the Express Assessment can help set the driver's expectations realistically, so they can plan properly for redirecting their load, finding accommodations, and whatever else may need to be taken care of during that downtime. The Momentum staff is here for our customers, to walk with them through that entire process and make sure they feel in control of their circumstances and cared for by our team.
How do your service department and parts department work together as you help a driver?
Service and parts are really a tandem pair when it comes to repairs. Momentum Truck Group has the largest on-hand parts inventory in Central and North Central Minnesota, so we're uniquely positioned to have parts readily available for repairs and minimize downtime due to part sourcing delays. If we don't have a part, we work hard to locate it within our network and get it to our service department as quickly as possible. That process includes updates to the customer at every stage, so they know the status of their repair all throughout their time with us.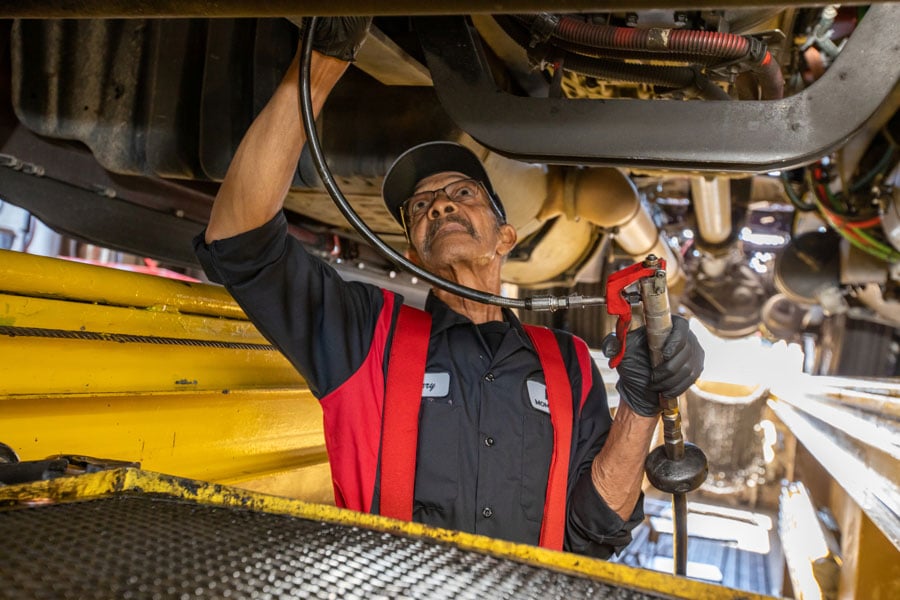 We know Momentum is extraordinarily dedicated to customer service, especially when a driver is in a challenging situation, like after an accident or during an extended period of downtime. Can you talk a bit about your approach when a driver comes to you with an issue?
Momentum Truck Group is proud to say our commitment to quality repair work is matched by our proactive customer service model. Our service team works diligently to give the customer all their options up front when a repair need arises, so they can make the best, most informed decision for their business. If they choose to have Momentum complete the repair, we keep the customer updated each step of the way, so they know they are in good hands.
We also use some pretty incredible technology to empower our customers with knowledge. Our DTNA Uptime Pro technology allows our Service Advisors, Foremen, and Technicians to track all updates in one system that feeds into our Service Tracker program. Customers can easily sign up for Service Tracker and see real-time updates to their repair, which we know provides a very reassuring peace of mind.
In addition to the communication piece, we also strive to make our customers as comfortable as possible during downtime. All of our locations have outstanding customer lounge amenities for those that need to wait on-site for their repairs. If our customers are anticipating a longer stretch of downtime before they can get back on the road, we're always happy to provide assistance in getting them settled in accommodations nearby.
Ultimately, everything we do is in service to our customers' satisfaction, comfort, and confidence in their repairs — and we know that sometimes, it's the little things that matter most, like having a spot to charge your phone and some fast wifi so you can FaceTime your family. We get it, because we've been in this business a long time, so we're really tuned in to drivers' needs both in the service bay and beyond.
Learn more about Momentum Truck Group's semi truck service and repair capabilities by visiting us online today!